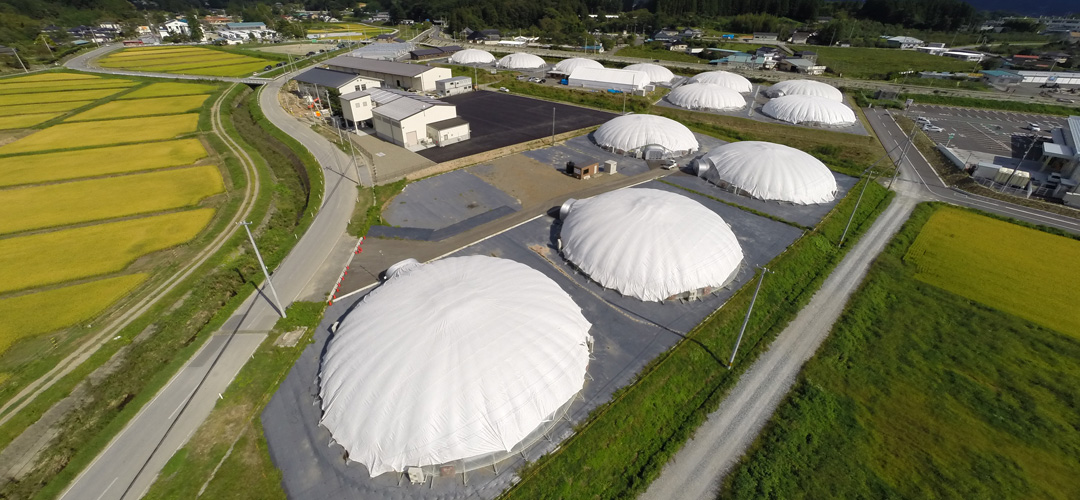 Equipment
Specialty plastic film
The dome is made from an all new double-layered specialty plastic film that controls sunlight evenly and allows this sunlight to reach every part of the dome, promoting photosynthesis. This material also has a heat insulating effect.
Entrance with double-entry doors
The entrance features a windbreak room to control air pressure inside and outside the dome. The double doors with keys use an aluminum sash and semitransparent windows made from polycarbonate.
Sensor pole
The sensor pole is used to measure wind speed, isolation, temperature and rainfall outside the doom. This data is sent to the control panel inside the dome for use in various controls.
High Efficiency
GSE Dome is high efficiency and high yield plant factories
GSE Dome is a high productivity air dome specially designed for hydroponic agriculture that leverages cutting edge technologies to overcome the weaknesses of conventional greenhouses.
Inside the 27-meter diameter air dome that allows even sunlight penetration is a 20-meter diameter water tank used for crop cultivation and also a dedicated float where 15,000 plants can be grown continually. Crops are planted inside inner perimeter when they are still small seedlings. Using an automated spacing system, plants are automatically moved to the more expansive exterior perimeter where they are harvested as crops after achieving the appropriate growth.
Air supported structure that is free from pillars or other structural impediments prevents weaker growth patches caused by shadows, which enables it to grow twice the amount of crops compared to a square-shaped greenhouse.
The Granpa Dome's facilities maintenance and vegetable cultivation are controlled entirely by computer, which makes it possible for efficient, care-free management and operations when using the auto mode
Air blower
There are eight air blower units set up inside the dome to adjust the inside air pressure. Combined they have a maximum ventilation capacity of 1,033 m3 per minute. These units have a damper feature to reduce damages to every extent possible if a sudden abnormal outside pressure is placed on the dome's film lining.
Cultivation pool
This 20-meter diameter 8-cm deep water pool has the capacity to regularly growth some 15,000 plants. There are 250 floats in the water pool and crops are planted in between these floats. In the center of the dome, a 3.2-meter diameter compact space offers highly efficient work.
Nutrient solution circulation unit
The nutrient solution circulation unit circulates the nutrient solution inside the cultivation tank, while also maintaining the optimal nutrient level and temperature for the variety of plant being grown. During the circulation process the nutrient solution's temperature, EC and PH, are also measured, and adjusted as necessary, or if need be acidic or alkaline solution is automatically from the tank.
Specification
Main features of the GSE dome
Representing the perfect blend of cutting edge cultivation techniques and engineering expertise, Granpa Dome is a revolutionary plant factory that achieves unprecedented yield and is energy efficient and environmentally friendly.
1. High efficiency vegetable production
*Delivers double the yield per unit of area compared to conventional greenhouses.
*An internal investigation
2. Automated cultivation
No need to transfer vegetables and interior environment is controlled by computer 24 hours day.
3. Natural sunlight powered air supported structure
Features a design eliminates shadows caused by steel pillars and framing and allows the maximum amount of sunlight possible. Uses tornado air currents ideal for growing and an enclosed environment that reduces damage from insects
4.Space saving design
Equipment is designed to operate in compact units and the automatic system based on growth stage makes it possible to get the most out of the dome's interior spaces
Summary of Granpa Dome facilities
Dome diameter - 27 meters
Total area approx. -. 572 square meters
Area of central water tank approx. - 302 square meters
Air blowers - 8
Air conditioners - 4
Cultivars - Heads of lettuce, Lollo Rosso, Leaf lettuce, Herbs, etc.
Production scale approx. – Around 500 plants per day per dome. (Depends on variety)
Structure - Air supported structure similar to the Tokyo Dome
Maximum wind speed withstood - 45m/s
Installation time - approx. 2 weeks various technologies patented
Control
Control Granpa Dome control panel
The control panel serves as the nerve center of the Granpa Dome. Here all aspects of the dome's operations are centrally controlled, from air conditioning to nutrient solution and facility management. The system can be set to Auto mode or Manual mode to provide the optimal growing conditions for the particular produce being grown.